History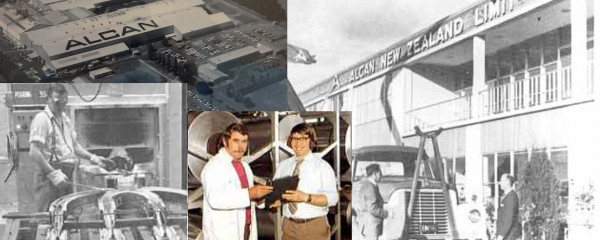 Altus may be a relatively new name but our heritage stretches back over fifty years in New Zealand. We are one of the pioneers for the introduction of Aluminium within the NZ windows and doors market.
Back in the 1950's Aluminium was almost an unknown material, not like today, where it is used in a wide range of industries and applications.
Over the years there have been a number of name changes since the company started trading in Wiri, 1961.
Alcan commenced operations in Australasia in 1936 and was part of a parent company based in Canada. The parent company Alcan Aluminium Ltd restructured in 1994 and sold off the shares of its Australian and NZ operations, Capral was formed as a result of these changes.
In 2002, Ron Holden, Bill Bradnam and Capral Aluminium Australia formed NALCO to take over the assets of Capral Aluminium NZ Ltd in a joint venture. In 2006, Ron and Bill purchased Capral's remaining shareholding to become the outright owners of NALCO.
In 2016 NALCO™ and Fletcher Building formed a joint venture called Altus NZ Limited. This partnership brought with it the combined strength of six fabricator brands; Bradnam's™, Fisher™, Nebulite™, Nulook™, Rylock™ and Vistalite™. And a volume of product brands including dual GLAZE™ & Stellar Doors™ and patents.
Today Altus is a leading designer of Aluminium window and door systems for both residential and commercial sectors through innovative and ground breaking research.

Altus has a rich history of achievements and milestones.
1961 - Opening of the Aluminium Mill in Wiri.
1963-7 - Roofing sheet was exported for building Sherpa community schools and hospitals in the Himalayas helping with the community work Sir Edmund Hillary was spearheading.
1970 - Extrusion capacity doubled at the Wiri site due to increasing Customer demand.
1971 - The first establishments of Aluminium centres working in partnership.
1970s - Investments in both Rolls Holdings (Hamilton) and Nulook (Cambridge). This meant the company could first enter the fabrication of windows and doors market.
1979 - Horizon Aluminium products is acquired further consolidating the group's position in the high rise window business.
1982 - A new high technology press is introduced at Wiri.
1986 - Des McCarthy (2nd from right) is the first employee to complete 25 years company service with many more to follow afterwards.
2002 - NALCO formed from a Joint Venture with Capral.
2002 - Bradnam's was established in New Zealand.
2002 - Early pioneers of V6.
2003 - The launch of the Weathertight™ system of windows and doors.
2009 - NALCO wins the Manukau Business Excellence Award.
2009 - The launch of the Sovereign Series™ sytem of windows and doors.
2011 - The Launch of the All Seasons™ thermal system of windows and doors.
2012 - Nalco outgrows its earlier premises in East Tamaki, shifts to a larger site in Highbrook, Auckland.
2014 - The Launch of the 41Architectural™ system of windows and doors.
2014 - Decision made to extend the Hamilton manufacturing plant and invest in new extrusion operation.
2015 - Nulook Windows & Doors celebrates 50 Years.
2015 - Order placed for new press.
2015 - The Stellar Doors innovative door selector is launched on the NALCO, Nulook and Bradnam's websites.
2015 - ERP investment for window business.
2016 - Announced the Joint Venture between Nalco and Fletcher Aluminium Ltd. This merger bringing together a number of successful Fabricator brands under one collective roof.
2016 - The new Turla Press located at the Hamilton manufacturing plant pushes its first billet.
2016 - 'We Are One' 1 July Joint Venture with Fletcher Aluminium Ltd.
2016 - Altus name launch - Fletcher Aluminium and NALCO become Altus.
2019

- Altus rebrands its two lead business units: Altus Industrial Aluminium & Altus Window Systems
2020

- Altus Commissioned the VPL – Vertical Paint Line, situated at the Hamilton manufacturing plant.
2020

- Altus rebrands the corporate identity as: Altus Industrial Aluminium & Window Systems
2021 - Altus launches two new residential joinery systems to the market; Tasman35 and Pacific41

&

2022 - Altus launches 'Al and Alisha' from Altus, and friends. They are the new faces of Altus.
2022 - Altus Announces the partnership with Women's Rugby WIRA.