The brief
The owners envisioned a sleek but "low-bling'' building to fit seamlessly into its surrounding landscape. It also had to be practical, with minimal running costs and the ability to stand up to the elements.
Spending much of the last 15 years summering in New Zealand and yachting around the world's oceans, they wanted the design to incorporate nautical references. These are visible through elegant portal-shaped windows, and the way the structure appears to float on piles above the site's sloping terrain.
Monk, too, brought his personal experience into the mix. He spent five years living in Japan, and several aspects of Japanese design can be seen in Tasman View House. For example, a genkan (a traditional entryway) continues the pathway into the main entry, a flow which is helped by the presence of sliding glass doors.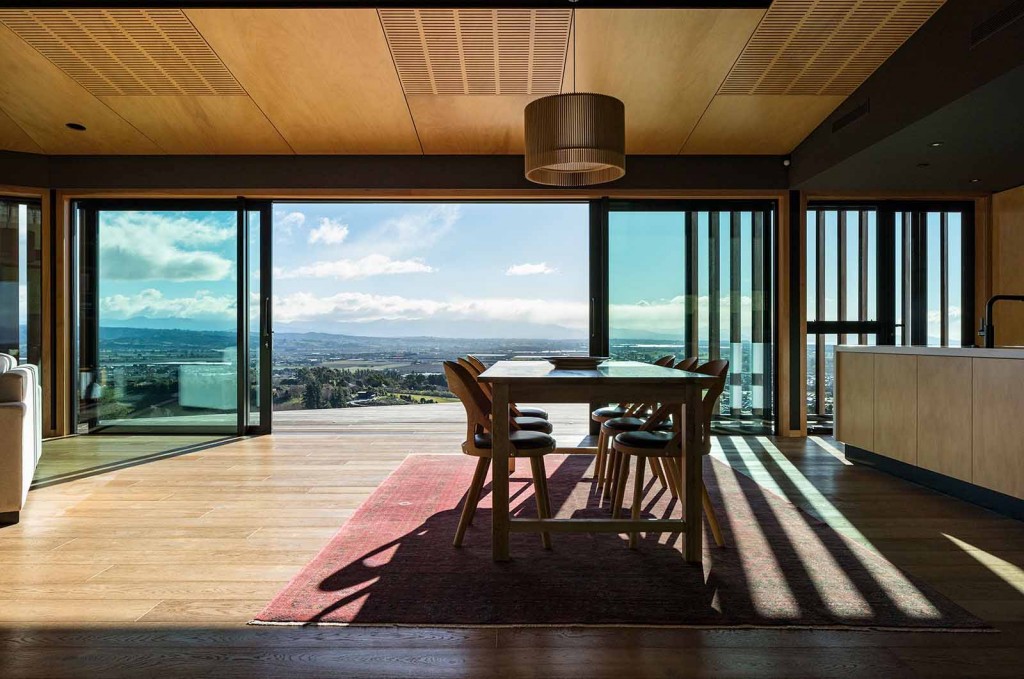 The project
Tasman View House makes brilliant use of the thermally enhanced Pacific Thermal system complemented by Low-E glass. A Commercial pivot entry door completed the build making an impressive welcome into the property.
From their time spent in New Zealand, the homeowners were aware of the different options available and understood the role that windows and doors play in allowing a building to retain heat in winter but remain cool in summer. The thermally enhanced Pacific Thermal system was chosen for its strong insulation credentials; with the capacity to add up to 50% more thermal efficiency, when combined with higher performing glass (double glazed IGU with Argon gas and a Low-E coating), than standard double glazing alone.
The choice of windows and doors enhanced the architectural design by contributing to a streamlined merging of indoor outdoor flow. Euroslider™ doors, with outside sliding panels, were used widely throughout the property, nowhere more obviously than in the living/dining area. Here, the glass alone spans seven metres, reaching a height of over two metres. Even when closed, this feature brings the outside in, allowing the owners to make the most of the beautiful view their property commands.
This property is situated in a designated 'high' wind zone area and the choice of joinery provided superior weather performance and the strength necessary to cope with the additional wind loading.