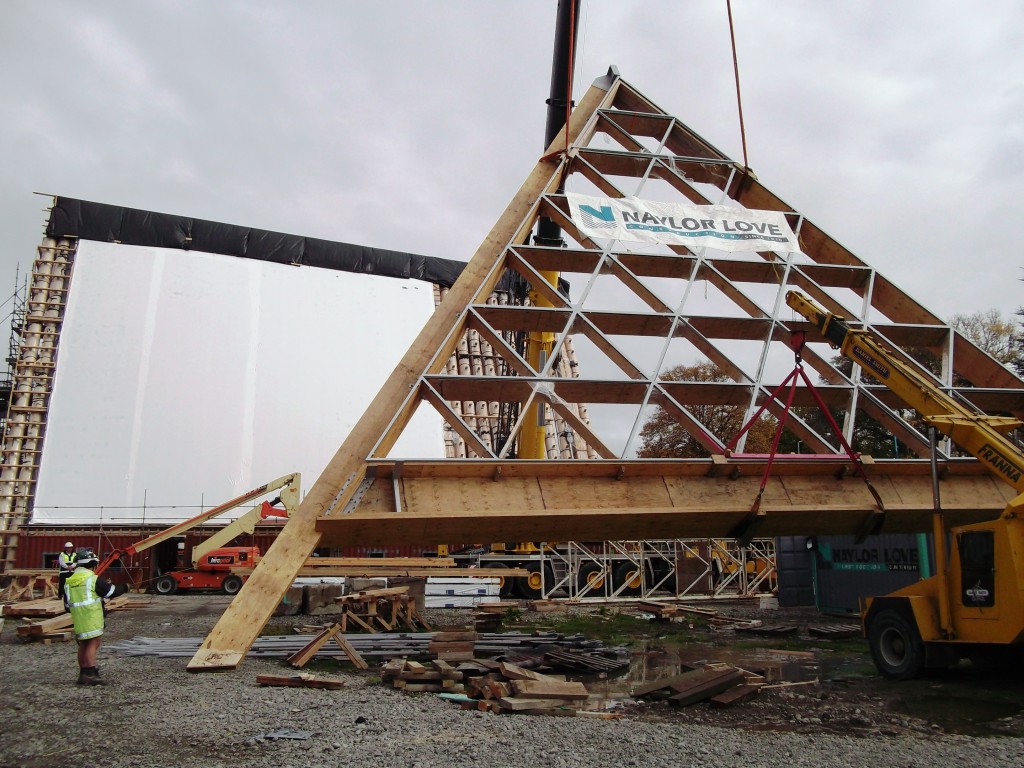 The Project
The project had a total value of $6.4 million and took much longer to build than planned. This was due to the difficulty of the construction which was new to everyone involved as well as some serious wet weather delays.

Eugene Coleman from Warren and Mahoney Architects had several meetings with Nulook, Raylight Aluminium to fine tune the architectural details based on Shigeru Ban's drawings.

The biggest challenge for Nulook was initially the design of the junctions in the Rose Window as well as the logistics of building something that was a triangle, 17m x 17m. This was constructed in sections in the Nulook, Raylight factory which were then taken to site, joined together, fitted to the massive timber support structure and finally the entire window craned into position.

The installation of the Rose Window went very smoothly and was done by Profix Ltd. The most difficult part was fitting the enormous sashes (3 triangles) once the frame was in place. Window control gear by Door and Window Systems Ltd was added to operate the sashes in conjunction with the air conditioning system.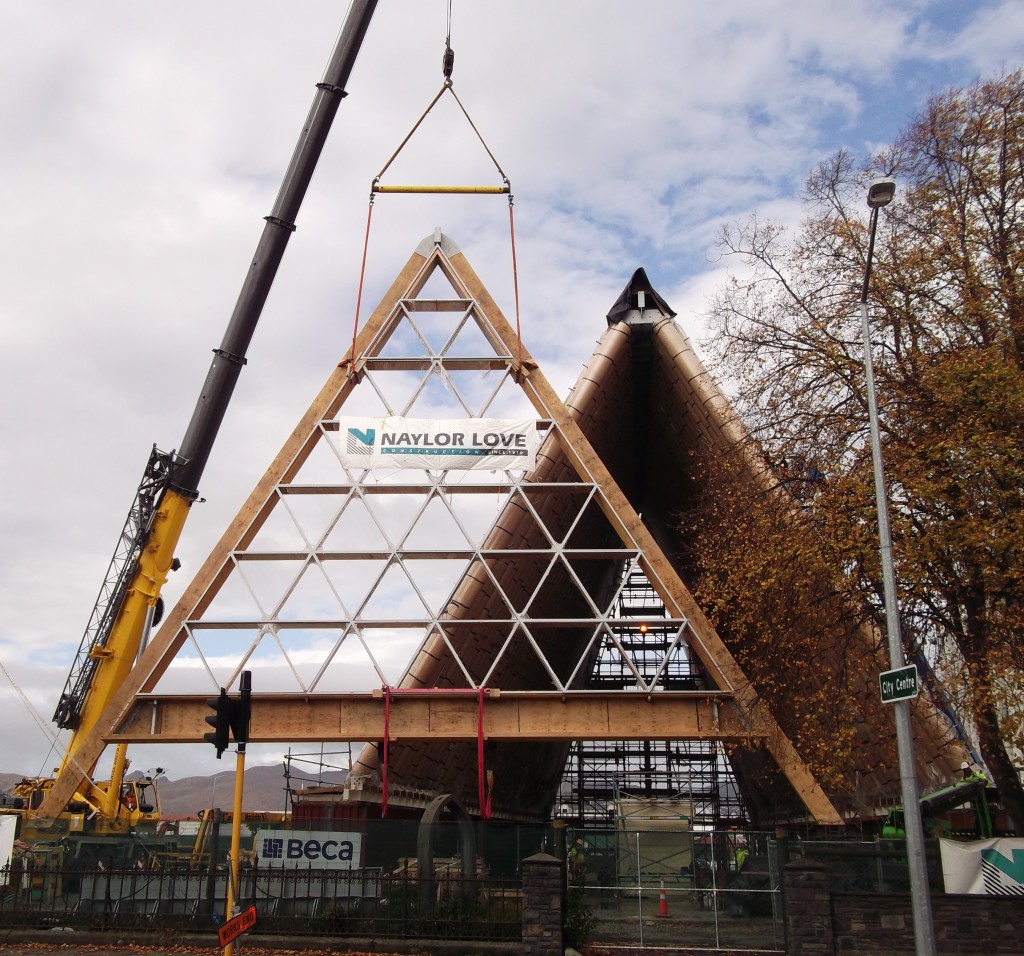 The Rose Window
The screen printed IGUs (insulated glass units) were manufactured by Metro Performance Glass to pre-determined sizes based on Nulook, Raylight's CAD drawings. They then were glazed off scissor lifts and knuckle booms to get access over the entry roof. Each IGU weighed approximately 70kgs. The screen printed design was based on the rose window stained glass from the original Christchurch Cathedral.
The Rose Window was made out of 40mm Commercial Mullion, using the split mullion as the main horizontal member. All sizes for this window were taken from a CAD drawing from the structural timber supplier, which Nulook, Raylight then overlaid drawings of their mullions to.
Nulook, Raylight then used this drawing to provide all glass sizes to Metro Performance Glass so they could get the printed units into production. The Rose Window was sent to site in horizontal sections and attached to the timber frame while it lay in the car park.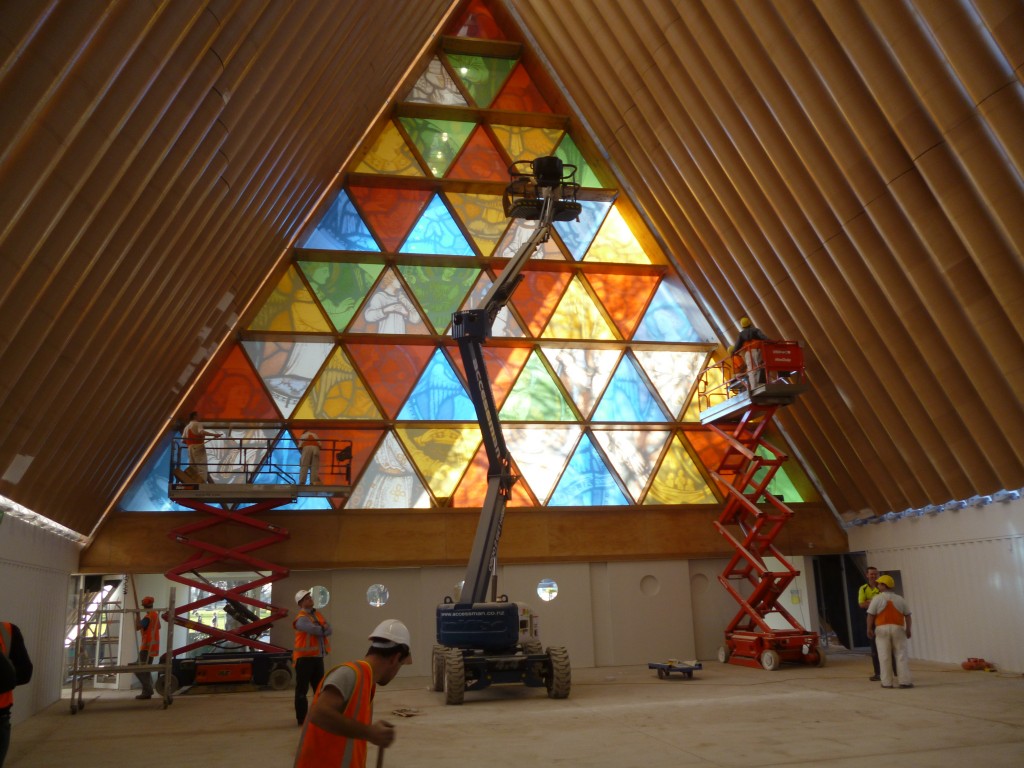 Wind Loads
The ULS for the Rose Window is 2kpa. Across shows a markup of preliminary wind loads for the cladding design. The markup loads are all for Ultimate Limit State, however pressures of up to 3.2kPa can be expected at serviceability levels. As stated on the sketch serviceability loads will be 65% of those stated at ULS.
The end result is an iconic building, if only temporary, that at night when lit up really showcases the Rose Window and the translucent roofing covering the massive cardboard tubes.