The three-storey 6000m2 building houses restaurants, kitchens, a sophisticated mechanical plant, ski collection stations, shops and open dining spaces. During peak season, over 3500 people walk through its doors, every day.
Glazing soars from floor to ceiling, enhancing the sense of space within while at the same time capturing all those spectacular alpine views.
Being set among those snow-clad peaks meant that wind loading and thermal performance were key considerations.
"We needed a thermally broken profile that could withstand big wind forces," says architect Michael Wyatt.
Wyatt liaised with the team at E13 Performance Windows early on in the design process to ensure his vision for vast expanses of glazing was achievable.
"We wanted to understand how the windows were going to cope with 270km/hr winds and how mullion centres and glass thicknesses would interact. We arrived at a module that worked with structural support centres and economic yields that were not in conflict with our architectural considerations."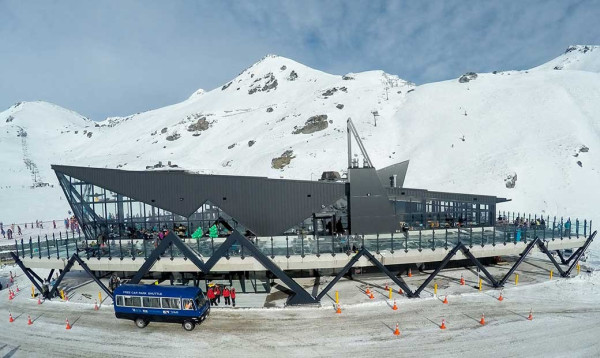 E13 were no strangers to coping with high wind pressures, having been involved in the Coronet Ski Field Base a few years earlier. They also brought in the Altus Technical Team at the start of the project to
"make sure we got off on the right foot".

"We also worked with the glass supplier to get the right balance between what the materials could handle in the environment while balancing the need for pleasing design," says Michael Brenssell, Director of E13 Performance Windows.