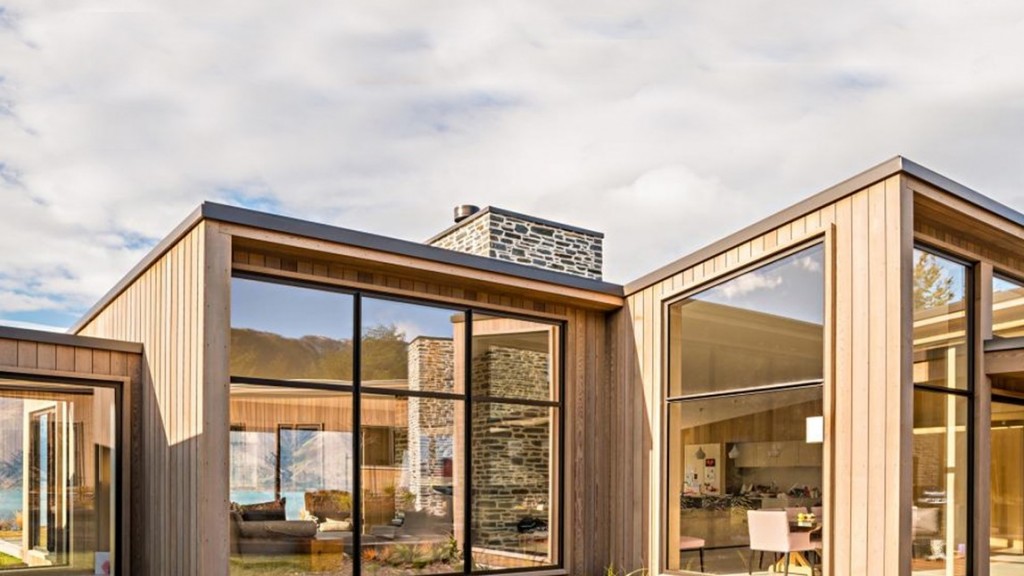 Every room has been cleverly oriented to frame a specific viewpoint, allowing spectacular views to each of the distinctive mountain peaks and prominent bays across the lake.
There's a generous amount of glazing at play here.
Full height sliding windows and doors allow unobstructed mountain views and maximise sunlight whilst allowing the home to easily flow out into the sheltered garden and its surrounding bush.
The living room, for example, is rendered almost transparent by floor to ceiling fixed windows on one side, and three panel Eurostacker™ Stacking Doors on the other.
"By using full height sliding and stacking doors, the rooms are able to be completely open to the landscape," says Whitaker.
Eurostacker™ and Euroslider™ doors have been used in a variety of configurations throughout the home for views, ventilation and indoor/outdoor flow.
Matt Lewis of Lewis Windows, says that both the Euroslider™ and Eurostacker™ doors aligned perfectly with the architect's vision.
The outside sliding panels of the doors are exposed without a sill channel trough. "This provides a streamlined aesthetic and means there's less maintenance required because there's nowhere for dirt, dust or water to build up," says Lewis.
A mix of Euroslider™ windows, fixed windows and awning windows literally complete the picture. Box cedar facings on the exterior give the windows a recessed look while harmonising with the natural appearance of the rest of the home.
This is carried across to the interior, where American Oak liners ensure the windows blend seamlessly with the timber wall lining. "We wanted the interior spaces to merge with the forest," Whitaker says.
The connection to the landscape goes beyond the aesthetics of the home.
"The dwelling meets an elevated environmentally conscious design criteria in the use of passive design, insulation, building materials, energy and heating systems," explains Whitaker.
The thermal performance of the windows and doors play an important part in this sustainable design.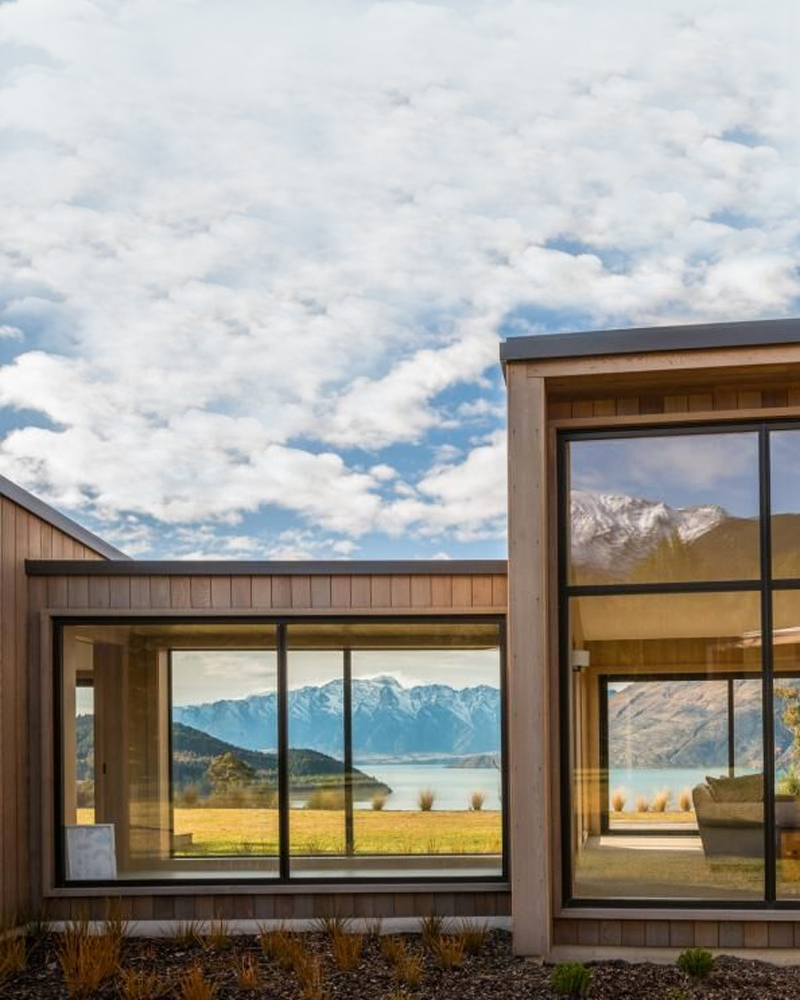 Working closely with the team at Lewis Windows, Ruth Whitaker decided on the Pacific52™ Thermal system for all of the joinery.
"It ticks all the boxes for thermal performance, aesthetics and functionality," she says.
The Pacific52™ thermally broken frames have a nylon thermal barrier that prevents heat transfer and considerably reduces the chances of condensation, keeping the interior warmer, drier and more comfortable, all year 'round.
"We used double glazed IGU with Argon gas and a Low E coating to enhance the thermal performance even more," Lewis explains. In fact, the use of this glazing can add up to 50% more thermal efficiency than standard double glazing alone.
The Australian-based owners quickly fell in love with this stunning homestead. So much so that what was originally planned as a luxurious retreat has instead become their permanent family home.