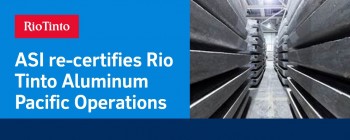 Following the announcement that Rio Tinto became the world's first company to be re-certified (Performance Standard) by the Aluminium Stewardship Initiative (ASI) for its Atlantic assets they are pleased to share the re-certification for our Pacific assets including Gove and Weipa bauxite mines (including related port facilities and power stations), Yarwun Alumina Refinery, Bell Bay and New Zealand Aluminium Smelters and Rio Tinto Aluminium Headquarters in Brisbane has now been achieved.
The ASI Certification program is the only independent and comprehensive voluntary sustainability standard initiative for the Aluminium value chain. It sets out specific requirements for the creation of a Chain of Custody for material that is produced and processed through the value chain into diverse downstream sectors. It links verified practices at successive steps in the supply chain to products produced by ASI Certified Entities.
Ensuring our products remain the material of choice is critical for driving sustainable supply chains across Asia Pacific in key segments such as automotive, packaging and electronics. The re-certification of our Pacific assets demonstrates our commitment to Responsible Aluminium and meeting our customers growing expectations for bauxite from Gove and Weipa and Aluminium from Bell Bay and NZAS where we produce some of the highest quality metal anywhere in the world. said Tolga Egrilmezer, Vice President, Sales & Marketing, Rio Tinto Aluminium.

We warmly congratulate Rio Tinto on achieving the second ASI Re-Certification. This re-certification which is for Rio Tinto's Pacific operations follows the world's first re-certification of the ASI Performance Standard last month for their Atlantic operations. With 22 sites now certified for Performance and Chain of Custody certifications, Rio Tinto has been a pioneer in ASI as a founding member and the first ASI Certification in early 2018. Today, there are 53 companies globally that have been ASI Certified, and many more underway. It is really encouraging to see the ASI program maturing to the next round of certifications with this milestone announcement," said Fiona Solomon, Chief Executive Officer of Aluminium Stewardship Initiative" said Fiona Solomon, Chief Executive Officer of Aluminium Stewardship Initiative.
This milestone follows our launch of START Responsible Aluminium. START stands for Sustainability, Traceability, Assurance from Rio Tinto and is another Aluminium industry first bringing radical transparency to our ESG credentials. It is the nutrition label for our products and showcases our ASI credentials. It is available now to customers for the full chain of custody.